If you want to dress like an authentic 1980s guy for a themed party or Halloween, there are several different iconic styles you can draw from. The key to rocking an '80s look is being OK with excess. More actually means more in the decade of decadence: Think bright colors, lots of accessories and crazy, big hair. These are looks that will definitely get you noticed.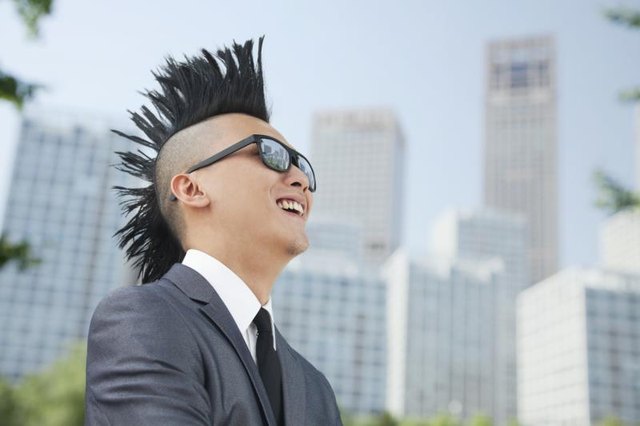 (XiXinXing/XiXinXing/Getty Images)
The glam rock and heavy metal rockers of the '80s wore big hair with tons of product holding it in place. Tease the hair at the roots to give it staying power, and then spritz it liberally with hairspray. Uniforms to go with this look include black rock T-shirts or leather vests, denim or leather jackets and tight jeans or leather pants. Sew a band patch on the back of your jacket or vest, or use a permanent black marker to hand-draw band logos on denim -- good choices include Motley Crue, Ratt or Poison. Add a few leather wrist bands or a bandana worn as a headband for authentic effect. And don't be afraid to wear just a touch of black eyeliner under the eyes.
The '80s punk rock look had a different hair look than the rockers -- often multicolored and usually standing straight up. Whether you go for a classic Mohawk or just a faux hawk, use lots of gel and blow dry your hair straight until it defies gravity and doesn't move. Don't be afraid to spray on some temporary garish hair colors like green or purple. Pants need to be tight and made of either denim, leather or tartan plaid, usually tucked into black leather boots. Add lots of chains hanging off your pants and around your neck. Strategically cut your T-shirt several times down the front or sides, and hold together the slits with safety pins. Adorn leather jackets with pins and chains in a series of patterns. Add silver studs or spikes to leather wristbands and dog collars, and make a fake safety pin cheek piercing by cutting off the point with wire cutters and sliding the pin onto the edge of your cheek with the former pointed end inside your mouth. Draw on some heavy black eyeliner to complete the look.
New Wavers were a bit more varied than some of the other '80s genres. Hair was often bleached all over or just at the front, and could be short and spiky, long and teased big, or in crazy styles reminiscent of bands like A Flock of Seagulls, Duran Duran or The Cure. Colors were bright, and often include neon shades. Begin your costume by dying a white t-shirt with neon fabric dye. Cut the fingers off a pair of mesh gloves and combine one or both with a sparkly scarf and an oversized sports coats or jean jacket. Use permanent markers to draw some new wave band names or logos on your jacket or jeans, which should be as tight as possible. Create some DIY silver bangles by twisting together guitar strings in circles and soldering the sharp end to the rest of the bracelet. Wear an armload of these paired with black rubber O-rings for the final '80s touch – yes, even for the guys.
The preppy look was the most conservative '80s look, and drew heavily on the weekend uniforms of prep school students and their rich families. Polo shirts are de rigeur, in bold colors like pink, yellow and green, but the collar must be turned up. Embroider or sew an oversized alligator or polo horse logo on the left side of the chest and throw a sweater around your shoulders. Style your hair short on the sides and longer on top, in a sort of pompadour or a conservative cut. Clip a long piece of blonde fake braided hair at the back to look like a bleached "rat's tail." Walking shorts or khakis plus penny loafers or topsiders complete this look.
A variation on the preppy style is the Miami Vice look, which features a pastel t-shirt under a color sports coats -- custom color these key pieces with fabric dye for an eye-popping look. Don't forget the dark black sunglasses -- and don't wear any socks with your loafers.
Promoted By Zergnet