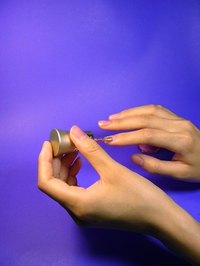 Polka dot manicures and pedicures can be a lovely nail design for any season or occasion. You can create your own polka dot nails using a variety of nail art tools or common items you have at home. Nail dotting tools give you great precision in painting tiny designs and intricate details on your fingernails and toenails. Let your creativity guide you in making pretty nail designs at home featuring spots and dots, flowers and more.
Tiny Nail Art Dotting Brush
Nail art dotting brushes work well for creating your polka dot nails. Dotting brushes typically have very fine points or a rounded brush tip. When using a dotting brush, you can swirl multiple nail colors -- or create perfect dots and flowers with practice and precision. Be sure to clean your nail art dotting brush after each use.
Nail Art Marbling Tool
A nail art marbling tool allows you to dot your nails effortlessly with little mess. The marbling tool gives great precision with a simple dotting motion onto your nail. To use the marbling tool, dip the tip of the tool into your desired nail color and gently tap the tip onto your nail. Allow the nail colors to dry completely and then complete the design with a clear top coat.
Toothpicks for Nail Art
If you don't have any nail art tools of your own, you can still create dotted nails with toothpicks. Dip your toothpick into your polish and tap it to the nail wherever you want dots. Seal your nails with clear top coat once the dots are dry.
Tiny Flower Dotted Nail Art
Flower designs are easy to create on your nails. Dip your nail dotting tool -- brush, marbling tool or toothpick -- into your desired flower "center" color and make one dot. Then clean off the nail art tool and dip it into the color for the flower petals. Tap the tool on your nails again, moving slowly around the center of the flower. Finish the look with a clear top coat.