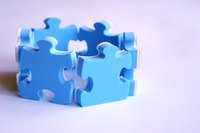 Team-building games often improve motivation, but if there are inherent problems within a team, then they are better solved through workshops. Office teams can feel jaded and demotivated in their environment, as they lack physical exercise and the stimulation of being outside. Team motivational games can stimulate laughter and camaraderie, promote team problem-solving abilities, reinforce team roles and responsibilities, and rejuvenate the team's desire to do well.
All Tied Up
Split your employees into teams of between six and 15 and get them to stand in a tight, inward-facing circle. The participants now have to draw closer, entwining their arms in the center of the circle, and clasp hands with the people opposite them. Each hand should be held by different people. Now comes the fun bit. Without letting go of one another's hands, participants have to reform the original circle by moving under and over each other's arms, working as a team to decide how to do it. Stop the game when teams have either freed themselves or appear fed-up of trying -- 15 minutes will probably be enough for this activity. Afterward, successful teams can discuss who took leadership roles and how the team communicated and worked together. Teams left entangled can discuss whether they thought it was impossible or they needed extra time and how they would do it differently with another chance.
Team Quizzes
Sharpen up your employees' thinking and get them brainstorming in groups by providing them with a quiz. Split the office into teams and pit them against each other. This activity encourages people who work in different areas to cooperate and appreciate one another's skills.
Trust Walk
Office teams will love getting outside for this fun activity. A local wood, park or playground are ideal locations. Choose an area with natural obstacles or, if you're are using an open field, for example, take some cardboard boxes with you to create some. Split your team into pairs. One of the pair is blindfolded while the other guides them vocally around the obstacles to a designated finishing point. Other pairs will have fun watching until it is their turn. Afterward, get your team to discuss how it felt for the guide to be responsible for the other's safety, whether the blind-folded partner had any problems trusting their guide and why, as well as general points about the importance of trust within a team.
Stranded on a Deserted Island
Split the office into teams of between five and 10. Within the groups each member must decide what one item they would take with them onto a deserted island and tell the rest of the group why they chose it, its importance to them and what they intend to do with it. Next, inform the teams that they must come up with ideas about how to improve their survival chances by sharing their chosen items and using them together in creative ways. After 10 or 15 minutes get each group to present their conclusions and award prizes for the best ideas.