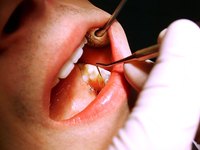 A dental office has many of the same requirements as other medical buildings. The flooring inside the office must be easy to clean and able to deter the spread of germs and bacteria. There are many kinds of flooring that can accomplish these requirements. All flooring types have benefits and drawbacks. In the end, choose a flooring type that fits your particular office and budget.
Carpet
Carpet is used in dental offices for hallways and waiting rooms. It is used less often in operating and patient rooms because of the maintenance. It's hard to clean carpet as often as hard floors. Choose carpet with microbial-fighting materials for control of germs. Carpet is durable, easy to maintain and works as a sound barrier. Daily vacuuming is a necessity, as is regular wet-extraction cleaning to remove spills and germs from the fibers.
Vinyl
Vinyl flooring is inexpensive and durable. Drawbacks include the possibility of germs and bacteria growing between the cracks in the floor. Cleaning vinyl flooring is easy and there are no special finishes or waxes necessary to keep the floor in top condition. A daily mopping with a bacteria-fighting cleaner will keep most germs at bay. Vinyl flooring doesn't provide a very good sound barrier, which can pose a problem in some offices.
Linoleum
Linoleum is a manufactured or engineered wood flooring with a protective coating over the top of the floor. The maintenance of linoleum is high, with an initial sealer necessary to protect the surface after installation. Periodic buffing is necessary to keep the floor in good condition. The durability of the floor is high. but its soundproofing ability is low. This type of flooring is easy to clean and doesn't require special cleaners like real wood floors.
Cement
Cement flooring is a viable option for dental offices on ground floors with cement subfloors. The upkeep of the floor is low. The cement flooring, which is very durable, has the additional benefit of being seam-free, which can deter some growth of bacteria. An initial sealant is necessary to seal the pores of the cement.
Acrylic Hardwood
Acrylic hardwood adds an acrylic coating over real wood floors. The acrylic coating is designed to withstand a high level of foot traffic and can withstand dropped items, scrapes of moving furniture and other heavy items. This flooring works in operating rooms and hallways. The upkeep of acrylic hardwood is similar to linoleum with frequent buffing and waxing needed to maintain the finish on the floor. The flooring can withstand daily cleaning with a bacteria-fighting cleaner.