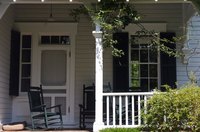 A home inspection report is a document that outlines the features of a home prior to purchasing the property. It is a detailed report that discusses various aspects of the home, such as the exterior, interior and housing systems. It is meant to ensure that the new home owners are purchasing a property that is functioning and safe. If anything is wrong with the property or home, it will be outlined in the home inspection report. Each item mentioned in the report will be categorized as inspected, not inspected or not present.
Basic Formatting
A home inspection report includes a basic cover page. The cover page includes the title of the report and the address of the property being inspected in the report. A date is also needed on the cover page. Depending on the length of the inspection report, a table of contents page is also included, along with a brief overview introduction to the report.
Exterior Description
The home inspection report will have a section that discusses the conditions of the exterior of the home. It will include an inspection of the doors, wall trimming, windows, decks, balconies, steps, porches, patios, driveways, walkways, eaves and garage doors.
Roofing
An examination of the roofing will also be a part of the home inspection report. The roofing section will cover roof coverings, flashings, skylights, roof penetrations, chimneys and any visible or known damage in terms of roofing draining systems.
Electrical System
The electrical system in the home is inspected and included in the report. The electrical system is evaluated in terms of service conductors, grounding equipment, main over-current device, distributor panels, circuit conductors, amperage and voltage, electronic devices and fixtures located both inside and outside the home, the location of main distributor panels, location of smoke detectors and the presence of carbon monoxide detectors.
Plumbing System
The entire plumbing system of the home is evaluated in terms of the overall drainage, waste and vent systems. This includes the plumbing water supply, distribution systems and plumbing fixtures located around the property. The hot water system, water controls and vents are also included in the inspection. Any fuel storage pertaining to the plumbing system and the main fuel shut off pump and the locations must also be mentioned.
Interior Description
The interior inspection includes an evaluation of the interior walls, ceilings and floors. This is done in each room in the home, such as the dining room, kitchen, living room, bathrooms and each bedroom. Any staircases, balconies, railings, counters, doors and windows are also part of the inspection report.