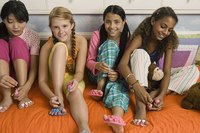 Summer is the perfect time of year to show off new clothes, hairstyles and especially pedicures. The warmer months of the year are the prime time to showcase your feet with an of-the-moment pedicure. But with so many colors and designs it's tough to decide what would make those piggies pop. One of the most coveted pedicure nail art designs right now are tiny bouquets for your feet. Check out these floral nail art ideas to keep your feet looking hot even as the weather starts to turn cold!
Traditional Flowers
If you prefer your flower toenail art to be in the traditional vein, you'll be happy to know that there are a host of conservative options. Traditional flowers are easily copied, applied with special tools, such as small brushes and adhesive stickers. Think "classics" like roses, daisies, sunflowers and tulips. One of the advantages of traditional flowers for your nail art is that you can easily convey the meaning behind certain flowers. For example, roses mean love and passion, while sunflowers and daisies evoke happiness. Put either on your pedicure and the world will know what's on your mind.
Funky Flowers
Edgy fashionistas are likely to favor this toenail art idea because it steps outside the box and turns traditional on its head. Deciding to decorate your feet with a nail art design of funky flowers is a bold move that is sure to be an eye-catching conversation starter leaving an air of mystery. What you choose depends solely on preference and how outrageous you want to get. Black roses, cactus flowers, pussy willows and Japanese cherry blossoms are an unexpected way to accentuate your pedicure that will keep people guessing about their meaning.
Mismatched Flowers
Sometimes deciding between two things that you equally love can leave you torn. But nail art is an easy place to experiment with mismatched designs that satisfy both your whims. Combining the sweet traditional floral nail art designs with the more funky and unexpected ones is a great way to indulge in the best of both worlds. Go for traditional designs on one foot and funky designs on the other or alternate toes to integrate both patterns. But this isn't like committing to a tattoo - throw convention out the window and do whatever you like, following no particular pattern at all. If it doesn't turn out as you envisioned, swipe on some polish remover and try again.
Alternative Background Flowers
The nail is your canvas, and many designs call for a clear, nude or white background to give the flowers the spotlight. But remember, you don't have to follow the same set of rules. Opting for a solid background in a vibrant color (hot pink, yellow, orange), dark hue (black, navy, brown), or even a fun pattern (polka dots, gingham, pinstripes) will make this nail art design unique while adding definition and dimension. The alternative background can even give your nail art a 3-D effect, taking funky to a whole new level.