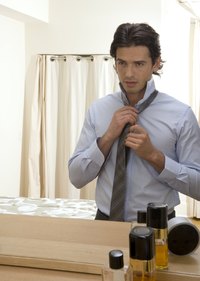 Most men shopping for business attire look for style, color and fit. A well-fitting dress shirt offers natural comfort and ease, especially when worn throughout the day with a suit jacket. Although designers often push style boundaries, the dress shirt traditionally features a collar, front placket and wrist cuffs, although differing in width, button selection and stitching. One design element of the dress shirt that remains optional and open to style debates is the shirt pocket. Although the pocket remains a functional shirt feature, most men have specific preferences about it.
Advantages
Pockets serve a function; they enable you to keep pens, notes or a few dollars for lunch on hand. A pocket is especially important in office settings that allow men to remove their suit jackets throughout the day. Certain shirt designers include two pockets -- a chest pocket with a single-button closure and a pocket on the opposite side with a pocket flap and button closure. Certain pocket flaps have a slightly shaped curve at the seam, making for a deeper pocket.
Pocket Size
Certain design features often make or break retail sales. The size of a dress-shirt pocket can deter customers from making the purchase. Although it depends on the need of the customer, oversized dress shirt pockets can also create unwanted bulk or discomfort when worn with custom-made jackets. This becomes especially evident for trendy shirt styles that include oversized pocket flaps. Combine the dress pocket shirt style with the suit silhouette to create a cohesive look.
Fine Shirt Makers
Delicate fabrics as well as classic vertical pinstripes are essential elements for fine shirt makers. Certain design houses implement shirt-making policies that inform consumers of the available design features for each shirt style. For instance, certain high-end designers include pockets with button-down collar shirt styles while the spread collar shirt -- collars that angle more than 90 degrees showing more of the upper shirt design -- eliminates the pocket feature altogether. One selling features for men who prefer patterned shirts with pockets is pattern alignment. Prints or patterns that do not align with the pocket indicate that a fine shirt maker did not produce the shirt style.
Dress Shirt Pockets vs. No Pocket
Though most suits appear to look the same, designers have altered the fit to add silhouette changes. For example, slim-fit suits often paired with slim ties would most likely require a dress shirt without the pockets. The make and finish of the shirt also dictates where the pocket drapes on your body. For example, well-made shirts naturally sit along the shoulder seams and finish at the end of the shoulder. If the seam falls over the shoulder, the front pockets will droop to the sides of your body shape. One main difference of the shirt pocket debate is cost. Less fabric used to produce the shirt reduces the manufacturing cost margins leading to lower retail costs. Compare off-the-rack shirts to fit within your budget and style.