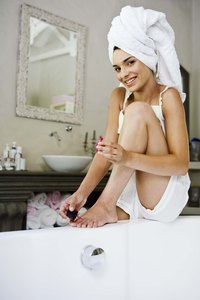 To nail-polish lovers, there's nothing like painting sun-kissed colors and trendy nail designs on your toes. To paint on the pretty this spring or summer, you don't have to travel to the nail salon; you can pump up your own pedicure. Whether you are a nail polish newbie or a polish passionista, you can take your pedicure from boring to beautiful with a few do-it-yourself nail art designs.
Half-Moons
When you want to make a statement with your pedicure, two-tone nails are the new neutral. If you are painting your toes for a spring wedding brunch, combine a pink polish with a metallic silver to complement your pink and white clothing options. First paint your toes a solid pink. Starting at the base of the toes, draw a semi-circle with the silver polish to create a half-moon shape. Finish with a topcoat.
Polka Dots
Unleash your inner Betty Boop with retro polka dots on your toes. For a night of dancing with friends, you can easily paint on a little panache with polka dots. Begin by painting on two coats of navy blue or black polish. Wait ten to 15 minutes for the polish to dry. Apply dots of white or silver nail polish with a toothpick or by using the end of a bobby pin to create the polka dot pattern. Wait 20 minutes for the dots to dry, then seal the design with a clear coat of polish.
Lilac French Manicure
A pale, pastel polish hue flatters every skin tone and complements your summer white, silver and nude-colored sandals beautifully. To create your pastel-tinted French manicure, brush on two coats of lavender polish and let dry. Using an opaque white polish, paint a half-moon shape on the tips of your toes. Finish your pretty pedicure with a high-shine top coat. If you are attending a summer picnic with the one you love, pair your lilac pedicure with a pair of denim shorts and a white and lavender checkered shirt.
Decorative Nail Stickers
If you don't have a steady hand, decorative nail stickers can add a little pizzazz to your nails without applying nail polish to your toes. To cover the nail completely, choose a decal that is slightly bigger than your nail. Place the side that is sticky on the top of your nail and press down firmly. File away any excess to complete the nail look. Showcase your art stickers with your favorite pair of flip flops and a flirty solid white summer dress.