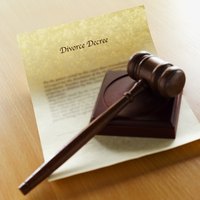 Your tax-filing status determines your standard deduction, what tax credits you are eligible to take and which column in the tax tables you must use. With five status options, it is important to know whether you are considered married or unmarried for tax purposes.
Definitions
Marriage as defined by the IRS is a legal union between a man and a woman. The term "spouse" refers to the person of opposite sex to the husband or wife.
Never Married
The IRS considers you unmarried if you have never been married. Even if you and a domestic partner have been married under state law, the IRS considers you unmarried for tax-filing purposes.
Divorced or Marriage Annulled
If you are divorced or legally separated by Dec. 31 according to the laws of your state, the IRS considers you unmarried for the entire year. You are considered unmarried if you had your marriage annulled in a court of law, even if you previously had filed joint tax returns.
Married Couple Living Apart
If you and your spouse are living apart, there are circumstances where you may be considered unmarried. To qualify you must file a return separate from your spouse, your spouse must not have lived in your household the final six months of the year and you must have provided more than half of the cost of maintaining your home.
Widow or Widower
The IRS does not consider you unmarried if you became a widow or widower during the tax year. If you do not remarry on or before Dec. 31, the IRS considers you married for the entire tax year and you may file as married filing jointly for yourself and your deceased spouse.