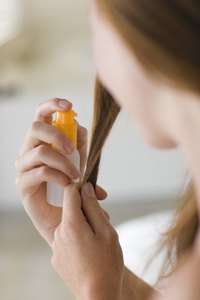 Saving money is top on the list for many individuals during tough economic times. Making homemade hair care products is one way to save money. Such a product is glycerin hair spray that you can make yourself. This alternative to manufactured glycerin hair spray takes approximately three minutes to make and has a shelf life of about one year.
Ingredients
Homemade glycerin hair spray is made with 8 ounces of rose water, 1/3 cup of aloe vera gel, 1/3 cup of vegetable glycerin, and three to five drops of an essential oil such as rosemary or peppermint oil. A substitution of tea tree oil for the essential oil is used to help control dandruff. Olive oil may also be substituted for the essential oil.
Scented or Unscented Glycerin Hair Spray
Hair care products on the market today are sold with a variety of scents or unscented. Homemade glycerin hair spray provides you with the opportunity to make either scented or unscented hair spray by eliminating the essential oil or by adding a few drops of essential oil. There are a wide variety of these oils available, so pick your favorite scent and add three to five drops to the mixture.
Mixing Process
The procedure to mix the ingredients involves placing a funnel in the neck of a 12-ounce spritz bottle. All ingredients are added to the bottle. The bottle is then sealed and the ingredients are mixed by shaking the bottle. Shake the spritz bottle just before using to ensure the homemade glycerin hair spray is adequately mixed.
Benefits
Two benefits mentioned previously include low cost and the ability to scent the homemade glycerin hair spray with the desired scent. Another benefit of homemade glycerin hair spray is it makes your hair soft and pliable. Glycerin hair spray coats the ends of your hair to pull together split ends. It does not fix split ends, but covers the ends of the hair to eliminate the frizzy look.