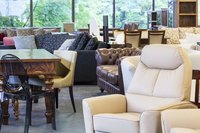 If your showroom is suffering from a lack of customer interest and poor sales, then you might consider changing the layout and your sales technique. Some of the most common mistakes showrooms make when pitching to the public are not knowing their customers, not encouraging questions and making buying harder than it should be.
Take a good look at your current setup before you dive into any radical changes. Having a full test of your showroom system should highlight certain areas that need improvement. This will save you time having to change everything and should allow you to focus on the least effective sales techniques and business procedures. Hand out a survey to existing and new customers that asks about the current system and setup. Also, employ a mystery shopper to assess your current sales experience. Avoid telling the sales team that a mystery shopper is coming so the team remains natural and honest.
Focus on your strengths. In the same way you might focus on what's bad about your system, find out which sales techniques and methods are working. Improve your sales by exploiting these strengths. Take a look at the sales records and see what strategy is working the best: It might be floor sales but it could also be through telephone marketing or advertising. Find what is working best, and rearrange the staff to work on it more. For example, take a salesperson off the floor and give him the sole job of selling over the phone if your main income is through telesales.
Change the layout of your showroom if it is affecting sales. In particular, consider making the products easily accessible and ensure their location doesn't keep customers from getting close to the products and finding out more before they buy. For example, a car showroom with the vehicles displayed behind the sales desks is a bad idea -- this intimidates customers and makes them think they'll be cornered into a sale. Arrange the space to encourage browsing, but also make sure it allows you to have an eye on all the customers and products.
Keep in touch with previous nonbuyers. According to the Business Know-How website, most prospective buyers will not buy the first time. Persistently follow up on a customer's interest by taking his contact details and calling or emailing him. You can just offer new product information, but to really stimulate a sale, offer him a personalized deal that was better than when he visited the showroom.
Make buying easier and faster. Every nonessential action in the buying process (paperwork, for example) gives the customer an opportunity to opt out. Streamline sales by not asking for any unnecessary information before the sale has been closed -- instead, send an email or make a call after the sale to ask for any extra information.