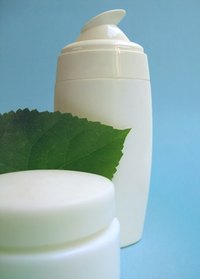 Homemade hand lotions are excellent, inexpensive additions to any beauty regiment. You can easily make lotions at home using vegetable glycerin, available at most drug or health food stores. Depending on your preferences, you can even add essential oil to your mixture for nicely perfumed lotion. Make several bottles and store them in bathrooms, near the kitchen sink or in the car. Consider making extra and giving them as gifts.
Things You'll Need
Small lotion bottles
Emulsifying wax
Olive oil
Vegetable glycerin
Distilled water
Citric acid
Essential oil
Place your lotion bottles in a dishwasher. Run your dishwasher on the "sterilize" cycle. Since any contaminents in the bottle may cause your lotion to break down prematurely, always work with freshly sterilized bottles. When choosing lotion bottles, go for dark or opaque bottles instead of clear ones. While clear ones may look nice, exposure to light will cause the lotion to break down. Additionally, never use metal containers, since contact with metal will alter the acidity of your lotion.
Combine 2 1/2 tbsp. emulsifying wax, 1/3 cup olive oil and and 1 tbsp. vegetable glycerin in the top portion of a double boiler. Heat the mixture until it is just melted and then remove it from the heat. Do not heat emulsifying wax directly in a pot or pan, since this can pose a fire hazard.
Add 1/2 cup room temperature distilled water and 1/2 tsp. citric acid to the mixture. Pour anywhere between 10 and 30 drops of your favorite essential oil, depending on your scent preference. You can even mix essential oils, creating a unique fragrance profile for your lotion. Whisk or beat all ingredients together for about one minute. If you prefer a thinner lotion, you may add a few more drops of distilled water.
Portion your lotion out into the sterilized containers. Store in a cool, dark place for an extended shelf life.