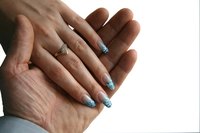 People use nail stickers to decorate their nails with dazzling sparkles, bright colors or unique designs. You can place nail stickers, which are also called nail decals, over nail polish or on bare nail. They typically last a few days and are easy to apply. To remove a nail sticker, you will need to soak your fingernails in nail polish remover to loosen the adhesive. Doing so will allow you to easily peel the nail sticker off.
Things You'll Need
Paper towel
Acetone nail polish remover
Lay a paper towel on a flat surface. Be sure to cover the surface with enough paper towels to prevent discoloring or damaging the surface with nail polish remover. Fold an extra paper towel to be used later and place it on the surface.
Pour nail polish remover into two plastic containers large enough to fit your fingers, and set the containers onto the paper towel.
Soak your fingers in the nail polish remover for five to ten minutes or until the stickers begin to loosen.
Remove your fingers and dry them with the extra paper towel.
Gently peel the sticker away from your nail.
Dip a cotton ball into the nail polish remover and wipe away and excess adhesive on your nail.