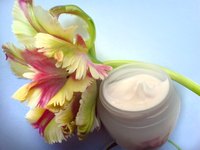 Dry skin or hair, aging skin, stretch marks and even chronic skin conditions respond to treatment with natural Shea butter. Shea butter not only moisturizes, but also heals, protects and promotes cell regeneration. Made from the Central and West African Karite Nut, this oil is dense and greasy: Therefore, the best Shea butter products contain at least one ingredient to help absorb excess oil. Making your own Shea butter can ensure that your mixture not only contains the highest quality ingredients, but is affordable as well.
Things You'll Need
6 ounces unprocessed, unrefined organic Shea butter
Vitamin E capsule
Pin or needle
Almond oil
Distilled water
Iced water
1 teaspoon wheat or cornstarch
Small cooking pot
Small stainless steel or glass bowl
Large mixing bowl
Hand mixer
Glass or plastic storage container
Pour two inches of distilled water into a pot, and heat it on the stove at medium. Place the Shea butter in a stainless steel or glass bowl, and rest this over the heated water, like a double-boiler. Allow the butter to gradually melt.
Puncture a vitamin E capsule with a pin or needle, and add the contents to the melted Shea butter. Also add the essential oil, almond oil, and corn or wheat starch. Mix by hand.
Put two cups ice water into a large mixing bowl. Place the bowl with the Shea butter mixture over the iced water. Be careful not to allow any water to get into the butter, use a hand mixer on medium speed, to gradually blend the ingredients into a whipped consistency.
Transfer your Shea butter to a storage container, and keep it tightly closed in the refrigerator between uses.