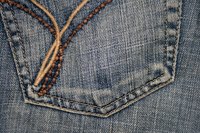 Rather than let old denim jean pants go to waste, you can cut the denim pants to make shorts. Cutting denim and sewing, when necessary, allows you to transform one denim creation into another fashionable item. Cutting denim can be a little tricky because it is a thick material. Since denim jeans already have a seam, it can be hard to cut through this portion of the jeans as well, so you have to make each of the cuts carefully.
Things You'll Need
Measuring tape
Marking chalk
Place the jeans on a flat work surface. Smooth the fabric out with your hands so that all of the wrinkles and folds are out of the jeans.
Measure from the waistband of the jeans down the right leg to the length you want the shorts to be. Mark the length with the chalk. Measure and mark the length of the left leg of the jeans as well.
Hold the jeans in place with one hand while you carefully cut with the scissors along the chalk line. It is easier to cut denim if you hold the denim as taut as possible while you cut. Cut the left leg of the jeans off and then cut the right leg of the jeans off.