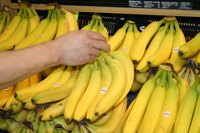 Grocery stores have a wide range of foods and products available for customers. As a result, signs are placed around stores to help customers navigate the aisles. For example, some signage lists items found in a particular aisle, such as spaghetti sauce, canned foods and pastas. Signs can also tell customers about locally grown goods or promotional items so they'll know more about the available food and/or purchase specials. Ensuring that signage is appropriate and helpful--and improving it as required--helps customers enjoy their shopping experiences and remain loyal to the store.
Talk to customers. Find out what they prefer for sign colors, sizes, lettering, designs and locations. Ask customers to fill out a survey or answer some questions regarding the store signs. Make a note of common color and style preferences.
Look at the design of the current signs and determine the differences between current designs and suggested changes. There are several signs that stores can utilize, ranging from economical to expensive in price. Having an idea of the different signs available can make improving your store's signs easier. For example, some grocery stores use wooden signs while others stick to large laminate or plastic signs.
Consider sign size. Find out whether customers would prefer larger or smaller signs than the current signs. Use averages from asking several customers about sign sizes and then consider adjustment for the sign size.
Determine the best material for your store signage. Every store is different, so sign materials can vary based on the environment you wish to create. The best material for a little mom and pop store is usually not the same as what's best for large and expensive stores that carry organic products. Most grocery store signs are made of either wood or plastic and laminate. Smaller stores require smaller signs, since you don't want to overwhelm customers. Large stores need larger and more prominent signs merely because of the square footage involved.
Ask customers about sign location. Find out whether customers are interested in floor signs or prefer hanging signs.
Look over the food items and consider putting up signs to display locally grown foods. This not only advertises the foods that are typically less expensive for the store to purchase--since high transportation costs aren't involved--but also shows customers which foods are local and fresh.
Put signs outside your store--storefront signs--to draw in customers. These may promote specific items, such as specially priced items, and should be changed often.