A poem is a homemade gift that can fit any occasion. Candy poems use the brand names of popular candies in place of nouns. For example, "Friends can be Life Savers when you hit a Rocky Road." To put a fun, unique twist on a candy poem, you can create a card with real candy bars. To secure your candy bars, choose a strong card stock and strong craft glue.
(Victor Holguin/Demand Media)
Things You'll Need
Strong paper (poster board, heavy card stock)

Scissors

Pencil
Permanent markers

Strong craft glue

Ruler
Step 1
Cut out the desired shape for card. Make it a single page or two-page card by folding your shape in half. Sketch out your poem lightly in pencil. Leave room for the pieces of candy you will be gluing in the sentences.
Victor Holguin/Demand Media
Step 2
Go over your pencil with permanent marker.
Victor Holguin/Demand Media
Step 3
Glue on your candy bars. You can use miniature bars or regular size, depending on your design and the size of the card that you want to create.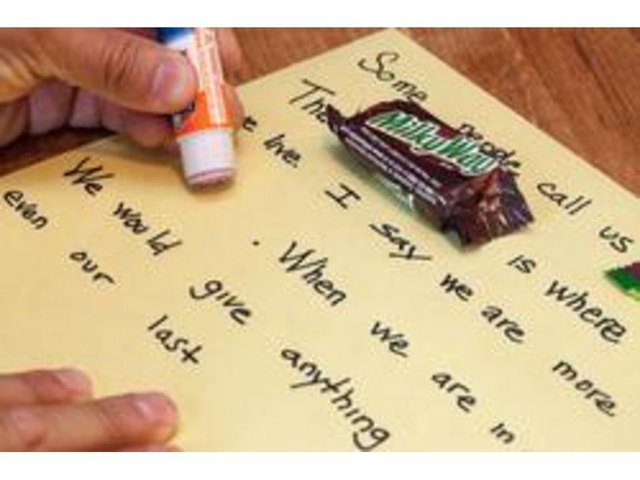 Victor Holguin/Demand Media
Step 4
Create a spine for the card if you want candy on the inside and you find it makes the card too bulky for just a single folded card. Instead of folding, take a ruler and make a pencil line down the center of the card stock where you would have folded it. Make two additional lines running parallel to the center line, one 1/2 inch to the right of the center line and one 1/2 inch to the left. Erase the center line. Go over your two remaining pencil lines with marker. Fold along each of these parallel lines to create a spine that is 1 inch wide.
Victor Holguin/Demand Media
Promoted By Zergnet