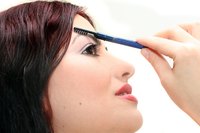 Changing hair color is a powerful statement. Some people change their hair color for variety, some to be seen differently, others to hide signs of aging. Whatever the reason, once the color of your hair has changed, it is certainly tempting to change the color of your eyebrows, as the difference can be very visible. It is certainly possible to color your eyebrows, either permanently through dye or temporarily with eyebrow pencils. Extreme care must be taken, though, to avoid damaging your eyes and skin. If you choose to dye them, some simple steps can make it safer.
Things You'll Need
Ophthalmic ointment
Eyebrow dye
Eyebrow pencils
Cotton swabs
Petroleum jelly
Protect your eyes. Apply ophthalmic ointment to the insides of your eyelids, close your eyes, and blink a few times. This spreads a layer of ointment over your eyes that will protect them somewhat from any dye drips.
Apply ointment to the outside of your eyelids and surrounding skin. This will protect the skin from the dye.
Dip a cotton swab in petroleum jelly and outline your eyebrows. Be careful not to get any on the area to be colored. The petroleum jelly will contain the dye and prevent skin stains.
Pour out a few drops of dye in your chosen color onto a clean surface. You will not need very much, so it is also possible to swab the inside of the bottle you used for your hair.
Saturate the cotton swab with dye, being careful not to fray the tip.
Apply the dye to your eyebrows very gently with the cotton swab. Apply until all hairs are saturated, but do so thinly to avoid any drips. Using multiple cotton swabs and making many passes is best.
Wet a paper towel or cloth and use it to remove the dye from your eyebrows. Be extremely careful not to drip in your eyes.
Wash your face thoroughly and carefully.
If you aren't comfortable with the risk of dyes, use an eyebrow pencil to temporarily achieve the same effect.