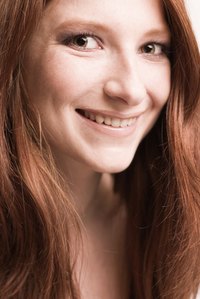 Sassy human hair extensions are available in most beauty supply stores. They are sold in silky straight or wavy and come on a weft. Weft hair extensions are basically long rolls of processed human hair extensions rooted into a woven band. The bands are typically glued into your hair with a latex bond glue. However, latex glue is messy and secures the extension in place for several weeks. If you would rather have more temporary extensions, you can attach the weft with hair extension clips. These clips are then attached into your hair for extensions that can be removed every day.
Things You'll Need
Scissors
Hair extension thread
Needle
Hair extension clips
Measure the distance between the bottom of your ears across the back of your head and cut a weft to fit that distance.
Unravel a 24-inch piece of hair extension thread and poke one end through a standard sewing needle. Tie a knot in the opposite end of the thread.
Position one clip at the end of a weft of hair so that the teeth are facing outward. Make sure the small holes on the clip are positioned over the band at the top of the weft.
Sew the clip to the weft band as you would sew a button, pulling the needle and thread through each hole. Sew through each hole at least twice. When you are finished, the needle should be back at the side of the clip you started sewing on.
Slip the end of the needle through the loop made by the initial knot in the thread or slip the needle underneath a previously made stitch.
Pull the thread tight, then repeat step 5. Knot the end of the thread.
Sew clips in the same manner every 2 inches. Cut another weft that measures from the middle of each ear and another that reaches from the top of each ear across the back of your head and repeat the entire sewing process.