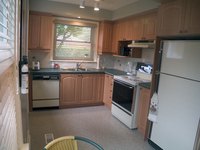 Kitchen cabinets can suffer a great deal of daily wear and tear. Regular exposure to heat, moisture and grease can dull their appearance. Sanding and finishing kitchen cabinets will restore their appearance but is a messy and expensive process. By thoroughly cleaning your kitchen cabinets and polishing the cabinet hardware, you can refinish your kitchen cabinets for less money and time.
Things You'll Need
Trisodium phosphate
Soft-bristled brush
Dish soap
Remove the doors and hardware from the kitchen cabinets with a screwdriver, including hinges, knobs and handles.
Scrub the cabinets clean with a clean cloth and trisodium phosphate. Use the proper amount of cleaning solution per the manufacturer's instructions.
Rinse the surface of the cabinets clean. Rinse them until the water runs off the cabinets clear. Allow the cabinets to completely dry.
Soak the removed kitchen cabinet hardware in a mixture of water and dish soap for approximately 30 minutes.
Scrub the kitchen cabinet hardware with a soft-bristled brush to remove any grime. Rinse the cabinet hardware and let dry. Apply a polish and work the polish into the surface of the hardware with a clean cloth.