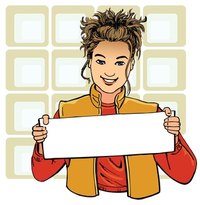 According to a November 2009 article on Brandweek.com, people who use coupons usually purchase more products and spend more money than they would otherwise. As such, creating a coupon book for a small business can be worth the initial time and effort. Coupon books can be cost effective to print and send through the mail to customers.
Things You'll Need
Index cards
Computer with desktop publishing program
Printer
Computer paper or card stock
Scissors or paper cutter
Staples or paper clips
Decide if you want your coupon book to be good throughout the year or for a specific period of time. For example, you might want to create a coupon for each month that offers a different type of discount. Perhaps the coupon for January could be 20 percent off a certain brand or product, while February's coupon could be $2.00 off a $10.00 purchase.
Create a "dummy book" for your coupons by writing out each coupon on a separate index card. This will help you decide what to include in the final product. Decide on a layout for your book. Are you going to want multiple coupons per page or one coupon that can be torn out and presented?
Design your coupons with a desktop publishing program on your computer. Go to the page setup option and choose a size for each page. One idea is to make each coupon the size of a business card so you could print it out on business-card paper with perforated edges.
Type in the text for your coupon, making sure the font you choose is clear and easy to read. Make sure you word your coupons exactly the way they are intended so that customers are clear on what they are being offered. Be sure you include an expiration date if one is desired and the phrase "coupon cannot be doubled or duplicated" if that is the case.
Scan in or download any desired graphics. Choose the "insert graphics" option to place them where they belong on your coupons.
Print your coupons on plain computer paper or card stock. Use a paper cutter to cut through several pages at once. Place the coupon pages in the order desired and fasten them with staples or paper clips.