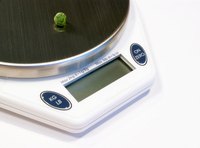 Digital scales have multiple household and business applications and users of digital scales rely on their accuracy. Factors including temperature changes, condensation, electrical malfunction, and regular wear and tear can affect a scale's accuracy over time. Coins are manufactured to be precise weights according to exact standards. This makes them a reliable and easily accessible reference to find whether the amount of weight on the scale matches the amount displayed.
Things You'll Need
Turn on the scale and activate the "tare" or "zero" setting.
Place five quarters on the scale. The weight should be 1 oz. or 28.25 g.
Remove the quarters from the scale and again press the button for "tare" or "zero" on the scale.
Place 25 dimes on the scale. The weight should be 2 oz. or 56.7 g.