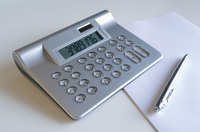 Sales tax is a consumption tax on taxable goods and services. Some states exempt shipping from sales tax, while others consider shipping to be a taxable service. For example, Alabama, California. and Wyoming do not collect sales tax on shipping, while South Carolina, Texas and Wisconsin do. If you are unsure, check with your state department of revenue for its sales tax policy on shipping charges.
Visit the Sales Tax Clearinghouse link in References. You can verify whether your state collects taxes on shipping, or click on your state's department of revenue link.
Find out the sales tax rate for your state. You can get this information from your state's department of revenue.
Multiply the state sales tax rate by the shipping charge. For example, if the shipping charge is $50 and the sales tax rate is 7 percent, $50 x 0.07 = $3.50.
Collect the cost of shipping and the sales tax from the customer. In the above example, the total cost of shipping plus tax is $53.50.