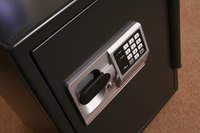 Your documents might be safe from theft and fire in a Brinks home security box, but without the right storage plan they are still susceptible to water damage. You can limit exposure to moisture by storing the papers in a protective package inside the box and placing the box in a dry place.
Storing Documents in a Brinks Safe
Insert your documents into an airtight, waterproof container such as a sealed bag before placing them in the box. Place packs of silica gel under and on top of the container. The gel absorbs moisture and helps prevent mold. Close and secure the safe. Open it at least twice a year to air the contents and check the gel packs. Check the box more often if you live in a humid environment, like once a month.
Color Indicator Gel Packs
Consider using gel packs that contain a moisture indicator. A chemical in these gel packs reacts to moisture, causing the silica to change color. Replace any saturated gel packs when you check the safe.