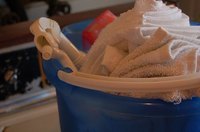 Marble is an elegant flooring option, but the commercial marble cleaning products also come with an expensive price tag. Since you may not always be able to clean the marble floors with high-priced commercial products, look for a cheap alternative that is still safe and effective in cleaning the marble flooring. Luckily, a product you have right in your home is inexpensive and will clean just as well as high-priced marble cleaners.
Things You'll Need
Rinse your cleaning mop under warm water, squeeze out the mop and wipe over the marble floors. This is a practically free cleaning routine that should be completed once or twice each week.
Pour one tbsp. of dish soap into the bottom of a cleaning bucket, and pour one gallon of warm water into the bucket.
Dip your mop into this cleaner, and squeeze the mop to wring out excess soapy water.
Wipe the mop over your marble floors two or three times per month, or as you see fit.
Wipe the marble floors with a damp mop using water only if you notice any leftover soap buildup, and let the marble air-dry.