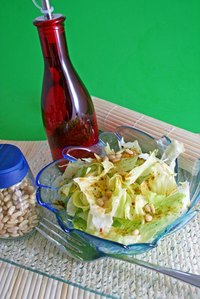 Vinegar has many different uses. Not only can vinegar clean and disinfect your home, but it can brighten your colors and even color your hair. Although vinegar can not give you all-over color like permanent hair dye, it can give you fresh looking low-lights and highlights. Even better, vinegar is wonderful to keep hair shiny, healthy, detangled and conditioned. Because the vinegar is so healthy for your hair, you can even use it about once a week for quick color and silky hair.
Things You'll Need
1 cup herbs (rosemary, marigold or coffee grounds)
Cutting board
Knife
Glass jar with lid
2 cups apple cider vinegar
Cheesecloth
Rubber band
Funnel
Spray bottle
Lay your herbs onto a cutting board. Use a knife to carefully mince the herbs to fill 1 measuring cup.
For brown low-lights, use rosemary or coffee grounds For blonde highlights, use marigolds
Pour the herbs into a clean mason jar. Pour 2 cups of apple cider vinegar into the jar.
Seal the jar tightly, and allow it to steep for 2 weeks in the refrigerator
Place a piece of cheese cloth over the jars opening. Hold the cheese cloth down by placing a rubber band over the cloth and around the jar's lid.
Place a funnel on top of the spray bottle. Carefully, pour the vinegar dye into the spray bottle.
Wash your hair as usual with shampoo. Instead of conditioning, spray a light mist of the herbal vinegar throughout your hair, then rinse out. For stronger color, do not rinse the herbal vinegar out--the vinegar smell will fade when the hair dries.