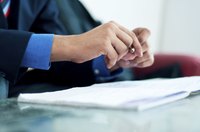 If you're planning on selling your car, you'll need the title. In Georgia, if there's a loan, the lien holder will maintain it until the car is paid off and the lien is released. However, if there's no lien and the title is lost, stolen or damaged, you can apply for a replacement. You'll need to complete and submit an application and pay a small fee to receive another title.
Accessing the Application
The application for replacement car title can be found on the Motor Vehicles section of the Georgia Department of Revenue website. The form can be accessed by selecting the "Missing or Damaged Serial Plate or Title" link under the title category. Since the replacement serial plate and title are both listed on the same page, be sure to select the MV-1 Title/Tag Application. The application can't be submitted online, so you'll need to download and print it.
Completing the Application
The application must be typed or handwritten legibly in blue or black ink. You will need to provide the Vehicle Identification Number, current odometer reading, title number, emissions certificate number, county of residence and district number. You also need the vehicle's year, make, model, body style, cylinders and color. Enter your full legal name, date of birth, driver's license number and address. If there's a co-owner, he'll also need to enter his information in the "Owner #2" section of the application. All owners must sign the application to confirm the information provided is true and accurate.
Additional Documentation and Forms
If your name has changed, you'll need to complete the application using your updated name along with documentation such as a copy of your marriage certificate or divorce decree. If liens have been satisfied since the original title was recorded, you'll need the lien holder to complete form T-4 - Notice of Satisfaction of Security Interest or Lien Holders Affidavit. The form must be submitted with your application.
Fees
The fee for a replacement title is $8 as of 2015. Acceptable payment methods include cash, check or money order. If the original title was lost in the mail and never received, the replacement title might be free if you reapply within 60 days of the issue date. For a title that was never received, you'll need to complete and attach a Form T-216, Title Not Received in the Mail Affidavit to your completed Form MV-1, MVD Title/Tag Application.
Mailing Address and Locations
You can mail the application and fees to the DOR/Motor Vehicle Division at P.O. Box 740381 Atlanta, GA 30374-0381. If you prefer, you can submit the application in person at your county tax commissioner's office. A complete list of offices throughout the state is available on the Georgia Department of Revenue site.