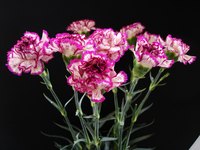 Making your own carnation bouquet as opposed to purchasing one not only reduces cost but allows you to personalize it with embellishments of your choice. You can use similar colored carnations for a uniform arrangement or mix several different hues for a colorful bouquet. Carnations are not only beautiful to look at but are also hardy flowers with semi-hard stems that withstand handling for several hours without drooping or bending. You can make a carnation bouquet for a bride, bridesmaid or other special occasion or simply to place in a tall, clear vase as an accent piece.
Things You'll Need
30 to 40 long-stemmed carnations
Scissors
Floral tape
Mirror
Floral clippers
Decorative ribbon
2 to 3 pearl pins
Inspect your long-stemmed carnations for disease or dry blooms or stems. Discard those. Stroke petals of closed blooms in an outward motion to open them further. Remove excess foliage from each stem.
Hold three carnations in a triangular shape, with the blooms 4 inches apart so that each stands out. You can vary the heights of these central flowers slightly so the bunch looks heavy and full. Wind floral tape around the stems, 3 to 4 inches below the blooms, to secure them together.
Add carnations around the central ones, in turn, to form a well-rounded bouquet. Begin by arranging a carnation between each of the main flowers so your arrangement spans wider. Arrange their stems at an angle so that the blooms form a dome shape.
Hold the stems firmly to prevent them from shifting and continue adding carnations around your forming dome-shaped bouquet. Stand in front of a mirror so you get a clear picture of the forming bouquet from the front and from below as you look down. Add carnations until the bouquet is at your desired width or keep it up to 9-inches wide.
Wind floral tape over the previous bind to hold all the stems together. Wrap another length around the stems several inches below the previous bind.
Trim the stems to about 9 inches. Use a sharp pair of floral clippers to cut the stems down. Make straight cuts instead of angled ones.
Position an end of wide, decorative ribbon under your blooms and slide a pearl pin into the stems to secure it in place. Wind it around the stems tightly several times until you reach the end. Trim excess length off and insert another pearl pin into the stems to secure this edge in place.