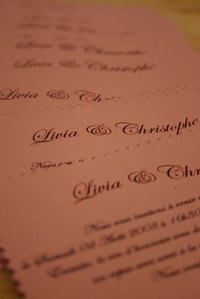 An invitation business run from your home can be a rewarding career. Starting this type of business will require design skills, marketing skills and sales skills. It will be imperative to learn how to find customers and work with them in a professional way to develop the invitations they seek. If you plan to do all of the production, there could be a financial investment in the business as well since a printing press alone can cost up to $7,000.
Things You'll Need
Learn about the design side of the business. If you do not have a graphics design background, check out graphic design, drawing and computer design classes at local art and technical schools. These classes will give you the education and experience you need to design invitations. Many programs will require you to create a portfolio of examples, which can be your professional portfolio to show to potential clients.
Check with local and state offices to find out about business licenses you will need before you begin. The Small Business Administration (SBA) can provide information and assist business owners with obtaining licensing as well as registering the business and completing the necessary sales and tax forms. If there is not a local SBA office, visit the main website to contact professionals through email for advice. The SBA also can help you develop a business plan, which will be a necessity when financing is sought from lenders.
Contact your local bank about financing if you plan to handle all of the production tasks. You will need computers, printing press and a variety of inks and stationery papers. In addition, operating capital for expenses such as marketing, training and professional fees also may also be needed. If the bank is unwilling to work with a new business, check with the Small Business Administration to find out about its lending partners. The SBA guarantees small business loans for new and existing businesses. SBA loans can reduce the risk that the lending institution has when lending to a start-up business.
Visit national stationery shows. This will give you an inside look at trends as well as the ability to speak with multiple equipment and stationery vendors. It helps you to find the equipment that best meets your needs to start your at-home stationery business. The National Stationery Show in New York only allows registered businesses so this step would need to take place after your business has been established as a retail entity.
Market the business. Develop a marketing plan that identifies your main target markets and create samples that can be shown to those markets. Complete the samples and investigate trade shows and other events where your target market will be present. A website that showcases your designs also can be an excellent way to reach out to those outside your immediate area. Forge relationships with vendors of complementary products who are serving or trying to reach your target market. For instance, if wedding invitations will be one of your specialties, reach out to wedding planners, caterers, photographers and bridal shops. When developing the business plan, the marketing strategy and budget should be a large part of the overall business plan.