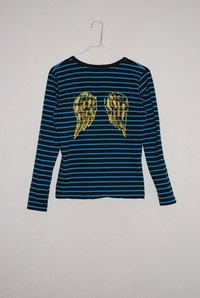 Instead of getting rid of an old shirt that doesn't fit quite right or that seems too stuffy and boring, cut it into a cute shirt design. Even if you don't know how to sew, many designs can be created without a needle and thread. Save money and get compliments with your own summery, cute altered shirt.
Things You'll Need
T-shirt or other shirt
Scissors
Two long ribbons or cords
V-Neck Tank Top
Lay the T-shirt flat on a table top or on a clean floor.
Cut the sleeves off the shirt above the shoulder seam. The seam should come off with the sleeves.
Cut the neck out of the shirt, just around the collar.
Cut a V-shape down from the front of the cut collar. Cut the V as low as you dare to go.
Laced Up Tank Top
Lay a tank top flat on a table top or on a clean floor.
Make a cut on the bottom left side of the shirt, through both the front and back, about half an inch away from the left seam. If the shirt was too small to begin with, cut as closely as you can to the seam; if it was too large, cut up to several inches from the seam. Repeat this procedure with the right side of the shirt.
Continue to cut up the height of the shirt to the armpit. Taper your cut so that at the arm-hole, you are only cutting off the seam of the shirt.
Cut small slits one quarter of an inch tall along all four sheared edges of the shirt. The slits should be made about half an inch from the edge of the shirt.
Lace up the two sides of the shirt, starting from under the armpits and working your way down, with two long pieces of medium-width ribbon or cord. Use the lacing pattern you would use to lace up a shoe. Fasten the ribbon or cord in a bow at the bottom of the shirt.
Open-backed shirt
Lay a long-sleeved or short-sleeved shirt flat on a table or the floor with the front facing down.
Cut out the entire collar of the shirt.
Cut a rectangle down from the back collar. You will only have to create the bottom half of the rectangle. It's width should extend to two inches from each shoulder seam and it should extend halfway down the back of the shirt. Try to end this rectangular cut just before you reach your bra-line. Use rounded, rather than pointed, corners on the rectangle.
Starting two inches below the bottom of the first rectangle, cut out a second rectangle with rounded corners that is the same width of the rectangle above and that extends to about four inches from the bottom of the shirt. The result will be a shirt that is ordinary from the front, but with a surprisingly sexy open back.