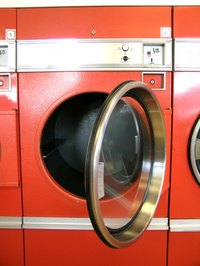 Whether a shirt became stretched out over time or a new shirt is just a little too big, it can most likely be shrunken to a more desirable size. The main element required to shrink a shirt is heat. The most practical household source of heat for shrinking a shirt is a common clothes dryer. With one simple adjustment to the dryer settings, you can shrink your shirt to get a more comfortable fit.
Place the shirt in the dryer. If you want to shrink additional articles of clothing, you can add them to the dryer as well.
Set the dryer to the highest temperature setting. The more heat the dryer produces, the more likely it is to shrink the shirt.
Let the shirt run in the dryer for 30 to 60 minutes. One complete dryer cycle is generally enough to shrink a shirt.
Let the shirt cool, and then try it on. If it is not small enough, repeat the process.