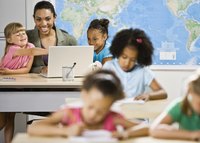 The strategy game "Lost at Sea" is actually an exercise designed to develop teamwork among co-workers, students and other groups. Players must use personal judgment and values to improve their chances of survival following a fictional shipwreck. The scores are based on how the players best determine which items best lend themselves to survival.
Objective
The object of the exercise is to list 15 items in order of importance to a sea rescue. Scoring values are assigned to each item on the list based on expert rankings. The items are a 5-gallon container of water, a case of Army "C" rations, 15 feet of nylon rope, fishing kit, maps of the ocean, a quart of 160-proof rum, seat cushion flotation device, sextant, shark repellent, shaving mirror, small transistor radio, 20 square feet of opaque plastic, two boxes of chocolate bars, two gallon can of oil/gas mixture, and an unspecified quantity of mosquito netting.
Scoring Setup
Each individual must make a personal list out of the items. The players then form to teams to discuss their choices and agree on a priority list. The completed lists go to a moderator or get exchanged with the list of another group. The final lists are compared with the expert rankings determined by U.S. Merchant Marines personnel.
Figuring the Scores
For each item, the difference in priority number from the expert's order is written down. Plus or minus is irrelevant. For example, if a team's No. 4 item is No. 6 on the expert list, and a second team has the same item at No. 8, the difference is two in both cases. Likewise, if a team lists at item at No. 3 that the expert rankings list at No. 8, the score is five. For any items placed in the exact spot in the numbering as the expert's, the score is zero.
Scoring Values
Tally the results of the teams. Scores from zero to 25 are considered excellent, 26-32 is good, and 33-45 is average. Fair scores are those in the 46-55 range. Poor scores are those 56 or higher.