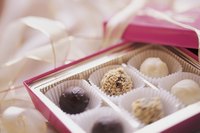 Candy making is a common hobby for those who like to cook and bake. Making chocolate candy can turn into more than a hobby if desired. There are many ways to sell homemade candy. With the use of the Internet you can ship candy to customers anywhere. However, it is best to start by building a local base for your chocolate candy business.
Obtain permits. When you are selling candy there are specific city codes you must meet. The area that you make candy must meet health requirements. You must also have permits to start your own business. Be sure to obtain a tax number as well.
Decide on packaging. Keep in mind people do judge things by what they see. Use colorful plastic wrap and tins to store your chocolate candy in. Use various sizes so customers can order both small and large amounts. Check online companies or local printing houses that customize packaging, so that your products look more professional.
Make a website. This will be a place of reference for your customers interested in buying chocolate candy. Include pictures and information on your products. Tell the public a little about your company and have a place where people can contact you. If you are interested in shipping candy around the country, or even the world, include information about how people can order your products.
Open a store. Rent a building for your chocolate candy business that is in a popular location with high traffic, but make sure you can sustain the rent payments with profit from your chocolate business.
Attend fairs. One way to get your name out there is by selling your chocolate at craft or city fairs. Consider selling at state fairs or other festivals in your area as well. Contact the promoter of the events and inquire about renting a booth.