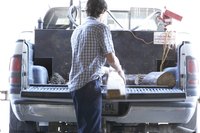 Though many companies offer car, van and moving truck rental services, few automobile leasing agencies provide pickup truck rentals. The lack of existing competition provides for a good niche opportunity for aspiring entrepreneurs who desire to get into this industry. According to Entrepreneur.com, the most challenging aspect of starting an automobile rental company involves obtaining the requisite insurance. The remainder of the steps necessary to start a pickup truck rental company are relatively straightforward.
Things You'll Need
Properly zoned operating location
Current used and new pickup truck pricing guides
Instructions
Secure an operating location with sufficient parking spaces and appropriate security to store your inventory of pickup trucks. Include a comfortable indoor space where customers can pick up and return the pickup trucks.
Acquire an inventory of pickup trucks to serve as your rental fleet. Explore the purchase of quality used pickup trucks in order to defray acquisition costs. Have all of the pickups inspected, and ensure that your customers receive safe vehicles.
Obtain insurance for the business. Procure a policy that covers both property and liability. Consult with insurance brokers who specialize in the automobile rental business. Insist that your customers either provide proof of their own coverage or purchase coverage provided by you for the term of the rental. Draw up your rental agreements ensuring they conform to all applicable laws and the terms of your insurance policies.
Acquire automobile rental and reservation management software. Hire personnel to staff the check-in counter and man the customer service lines. Hire a mechanic to service the pickups, or outsource this function to a reputable automobile maintenance firm. Create a website able to facilitate customer reservations. Set a competitive pricing schedule as compared with existing rental alternatives.
Advertise your business online, on local radio stations and in area print publications. Approach area home improvement stores and other businesses that cater to DIY enthusiasts seeking customer referrals. Seek the services of a professional marketing firm to further help get the word out about your new pickup rental business.