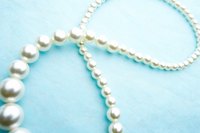 Pearl necklaces remain a popular fashion choice because of their natural beauty and versatility. Whether your passion is for white freshwater pearls or black Tahitian pearls, it is easy to find a flattering way to show off your necklace. Here are some creative ways to pair your long pearl necklace with suitable clothing and accessories.
Opt for clothes with vivid colors. While many like wearing pearls for their subtle style, pearls also can provide a visual pop to a well-chosen ensemble. Showcase your long pearl necklace over colors such as navy blue, lime green or candy apple red. Adding a long pearl necklace to the timeless "little black dress" can keep the look classic, while displaying your willingness to try new necklace lengths.
Pair long pearl necklaces with other types of necklaces. While a long pearl necklace can stand alone, adding coordinating and contrasting accessories gives your look more depth. Necklaces that feature glass beads, ribbon or natural elements like wood can give your look an instant upgrade. Experimenting with necklaces of varying lengths also can add appeal. Wear a choker or princess-length accessory to draw more attention to the length of your pearl necklace.
Use length to your advantage. Drape and twist the necklace to create numerous looks. Examples include wrapping the necklace into a chunky bracelet or forming a lariat knot to draw more attention to your bust line. Create a multi-strand effect by simply draping the necklace around your neck several times.
Wear clothes and accessories with pearl accents. Items like hair bows, shoe clips or purses that contain pearls can pull together your look. Match the types of pearls you're wearing for a subtle appearance or choose contrasting types of pearls for an eclectic look.
Pair a long pearl necklace with unexpected clothing choices. Show off your elevated fashion sense by veering from conventional thinking. So don't be afraid to pair black pearls with a completely white outfit or wear pearls with "biker" clothes. Wearing several pearl necklaces at once also can bring favorable attention to your outfit.