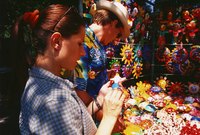 You have decided that delving into the world of craft shows is something that you would like to try. Choosing to become a vendor at a craft show is one way to show the buying public the craft items that you make and hopefully earn some extra income. There are many types of craft shows, but most require the same basic steps to become a vendor. Once you've mastered these steps, you can apply to just about any show available and launch your craft business in this new direction.
Things You'll Need
Photographs of your craft items
Steps for Becoming a Vendor at a Craft Show
Select the type of craft show to which you would like to apply. There are small "starter" craft shows for beginners, which typically take place indoors and are run by school groups, churches or other local organizations such as chambers of commerce. Then there are larger shows that are held both indoors and outdoors and often feature more than 200 very talented artisans. Smaller shows are usually easier to get into than larger shows, which are juried by a panel of experts who review photographs of an artist's work, resume and other pertinent information. Attending various types of festivals to see how they operate and what kind of artists participate and assess crowds is a great way to choose the type of craft show to which you would like to apply.
Obtain the show organizer contact information once you have selected a craft show to which you would like to apply. Local schools, churches, community organizations and city groups often have craft show contact information available for specific shows of interest. You can also obtain a wealth of craft show contact information from various festival websites (see Resources section below), local newspapers and community bulletin boards.
Contact the show organizer to find out what steps you must take to apply as a vendor. Smaller shows typically require that prospective vendors complete a written application, pay a booth fee (anywhere from $15 to $50) and possibly submit photos for review. Larger, more competitive shows usually require vendors to submit slides, color photos or digital images to a panel of expert judges, complete a written application, send a resume and pay a more substantial booth fee that ranges from $100 to more than $1,000.
Follow all of the application steps required by show organizers within the deadlines provided. For larger, more competitive shows, deadlines are often set a year in advance of the show, so apply early.
Wait to hear back from show organizers. Most shows provide a time frame in which they decide which vendors to accept. If you do not hear back within the time frame given, politely telephone or send a short e-mail to show organizers to check on the status of your application. Many show organizers will appreciate and recognize your extra interest and assertiveness to get into their shows.
Start building up your inventory once show organizers notify you of your acceptance into the show. It is always better to have more product ready than to not have enough merchandise to sell at the show. Thoroughly read all craft show rules and regulations before the show begins so that you are prepared and ready well in advance.