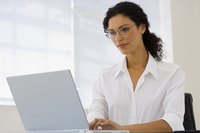 Embroidery patches communicate information in a colorful way, conveying through symbol and text an association of people, ideas and past times. Patches offer a similar trading, collecting and sharing opportunity to that provided by collectible pins. Designing an embroidered patch may seem daunting, but patch makers have created online processes that are staffed with trained consultants to help customers design this special art form. Consider using embroidered patches as an alternative to the typical promotional items offered at trade shows and conferences.
Use comparison shopping techniques to locate the perfect online embroidery company to work with. Compare pricing, delivery times, available patches and patch shapes and services offered for custom artwork.
Narrow the following choices before contacting the company's customer service department: size (width and height or diameter), backing (iron on, peel and stick, sew on or Velcro), background color and thread colors. Some companies may allow the choice of a border style—merrow (a wrapped thread edge detail) or hot-edge (a heat process that seals the edge detail).
Be ready to communicate via email to refine the design of the patch. Gather a copy of the original design or artwork if it is available but don't worry if artwork does not exist. Companies making embroidery patches have graphic designers on staff or retainer that assist with the patch-making process. Simple sketches and even verbal descriptions can typically be transformed into colorful embroidered patches by one of these experts, often at no charge.
Contact the customer service representative and start the embroidery process. Provide all requested information in a timely manner to meet any delivery deadlines. Ask for a written quote that states each aspect of the design—shape, size, number of colors being used, backing, background color, border design—and also states a delivery date, charges for artwork and graphic design help and pricing according to number of patches ordered.