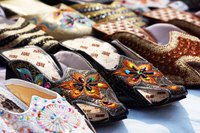 Designing an embroidery shop will create a pleasant experience prior to opening up for business. Filing the necessary business entity applications and business registrations and adhering to zoning laws are key elements to your grand opening. Your initial design will require pertinent decisions. These include selecting the appropriate embroidery machines, where to stock embroidery threads and purchasing the right trade fixtures.
Things You'll Need
Embroidery shop and location
Embroidery machines
Embroidery samples
Garment blanks for embroidery (optional)
Trade fixtures (display)
Graph paper (optional)
Embroidery Shop: Design and Site Plan
Measure the usable square footage of your location. Develop an initial blueprint, including the selling and non-selling areas of your shop's visible square footage. Draw your blueprint on graph paper as a visual tool.
Determine how much each square foot will cost you by dividing your rental expense by your square footage. Incorporate your sales projections per square foot in your site plan. This will influence how you position your fixtures and displays for maximum selling exposure.
Design your shop's interior with your store's image and budget in mind. Incorporate your embroidery machine placement, trade fixtures, displays, embroidery thread stock storage area and inventory storage into your initial blueprint.
Design your shop's entrance, keeping your store image, theme and budget in mind. Treat the entrance as prime retail space, using it to tell your customers a visual story as they walk into the store.
Select your interior lighting as part of your shop's overall ambiance. Keep your design budget in mind when selecting light fixtures and installations. Research and explore economical ways to achieve special lighting effects. For example, install track lighting or substitute with a spotlight in a soft or bright color hue to highlight an embroidery display.
Embroidery Shop: Layout
Review your shop's blueprint. Make necessary layout changes on your blueprint and include equipment, fixtures or lighting displays added during your initial design phase. Designate your office space for daily operations and set aside a separate meeting area for embroidery sample presentations.
Merchandise your store layout by separating your merchandise into specific classifications. Designate distinct areas within your shop featuring the merchandise. For instance, you can showcase newborn embroidered blankets and accessories on a softly lit table and select another area for athletic-inspired embroidered items with trade fixtures, spotlights and accessories.
Designate areas within your layout for any special customer promotional events. If you offer free embroidery how-to classes while promoting your shop's embroidery supplies during the demonstration, you can set aside a specific location within your layout, allowing for extra customers and seating.