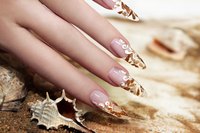 For impatient beauties who want a 5-minute manicure, nail decals are a fresh update of 1980's press-on nails. When removing single-color decals at home, a few swipes of an acetone-based polish remover will get the job done. Stickers that feature glitter, sequins or soak-off gel formulations may require a detailed removal process to get rid of the fancy designs. If you don't remove the decals properly, you may damage your natural nail plate.
Things You'll Need
Pure acetone
Small plastic bowl
Towel
Orangewood stick
Cotton balls
10 small pieces of foil
Moisturizing cream
Acetone Bath
Pour 1/4 cup of acetone into a small plastic bowl. Don't use a metal bowl to avoid the acetone and your nail decals reacting with the metal.
Place the bowl filled with acetone on a table in a well-ventilated area. Submerge nails in the acetone for 10 minutes to loosen the nail stickers.
Dry your hands with a clean towel, then gently pull the decals from the nails starting at the base of the cuticle. You can also use an orangewood stick to lift the stickers off the nails. If a portion of the decals remains, proceed to wrap them in foil and acetone-soaked cotton balls.
Foil Soak
Soak 10 cotton balls in the acetone. Place the cotton on your nail. Wrap the nail with a small piece of aluminum foil. Cover all the nails on one hand with the foil.
Let the foil and the cotton balls remain on your nails for five minutes. Remove the foils off your fingers and gently lift the decals by pulling the stickers from the base of the nails to the tips.
Place the cotton balls and foils on the other hand to remove the decals from your nails. After you've detached the stickers from the nails, wash your hands thoroughly with soap and warm water. Because acetone tends to dehydrate the skin, apply a thick moisturizer to your hands after using this chemical.