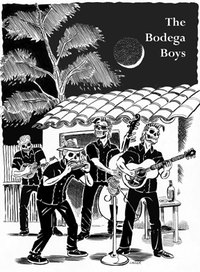 Custom designed logos can be easily printed using silk screen, also known as screen printing, the ideal medium for printing on a variety of materials such as T-shirts, tote bags, posters, plastic, glass and metal. A bright, sharp logo created with silk screen can get your message across in the best possible way. A person wearing a screen-printed T-shirt gives an implied endorsement to the image she is wearing.
Things You'll Need
Computer
Printer
Silk screen frame
Photo emulsion
Foam rubber
Heavy glass
Newsprint
Halide light
Clear vellum
Ink
Squeegee
Silk screen hinges
T-shirt
Poster board
What will be in your custom design silk screen logo? Assemble elements you need such as type, illustration or photos. Decide if your design will be silk-screened in one or more colors. Type and illustration elements can be created by hand and scanned into your computer or created in a graphics or drawing program. Illustration elements that are simple and iconic work well for logos and may incorporate type elements. Photos will need to be scanned in, unless you can find a copyright-free image online. Put together the elements of your design in a graphics program. Arrange the type and image elements in such a way as to effectively communicate your message. Is it pleasing to the eye? Does it communicate your message? Change if necessary until it works. When done, print out the design on a piece of clear vellum. This is called a film positive for the purpose of silk-screening.
Screen-printing kits from Speedball are available at many art supply stores and online. They will include the materials you need to make a silk screen. These materials can also be bought separately from a screen-printing supplier. A screen-printing supplier will have squeegee, screen hinges, ink, photo emulsion and silk screens. The other materials may be found at a hardware store.
Coat the silk screen with light-sensitive photo emulsion in a darkened room. When dry, place the silk screen face down over a piece of foam rubber that is cut to fit inside the silk screen frame. Place the film positive face down on top of the silk screen. Place a heavy piece of glass over this, and hang the halide light about 18 inches over it. Turn on the light for the time recommended in the instructions for the photo emulsion. Spray out the image on the screen with warm water at medium pressure. Blot both sides of the screen with newsprint. Let dry before printing.
Select your items to print on. For signage, the best materials include plastic, metal and glass. For posters, check with your local art supply store for heavy printmaking paper that will stand up to a thick coat of ink. T-shirts and other printable garments can be purchased easily at many stores, for large print runs there are imprintable garment wholesalers.
Place the silk screen frame with your custom design logo over the item to be printed. Check to see that the image will fall where you want it. Place ink in the end of the silk screen frame opposite yourself. Hold the squeegee firmly and pull it toward you, wiping the ink through the frame to print. One hand may be used to hold down the frame while the other hand pulls the squeegee. Or, the silk screen frame may be fastened to a table or board at one end with screen print hinges so that both hands are free to pull the squeegee. Lift the frame to check the print. Multiples may be printed. Clean the silk screen out when finished with the proper solvent for the ink, be it water, mineral spirits or some other solvent.