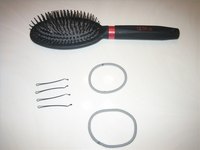 Are you tired of that same old hair-do? Want a way to keep your hair out of your eyes but still look cute? There are lots of great ponytail styles for day, night, and anytime. Cute ponytails are quick, easy and fashionable. They can be used to dress up an outfit or for simply for functionality. The following ponytail ideas are easy and require very few materials. Ponytails are ideal for medium to long hair.
Things You'll Need
Hair brush
2 ponytail Holders
Brush and part hair normally. Bring all hair back toward right ear.
Twist hair around your right index finger.
Pull twisted hair and into a spiral or bun. it will begin to do this automatically when twisting in Step 2.
Secure and wrap a ponytail holder around the bun two or three times depending on hair thickness.
Secure any loose pieces of hair with a bobby pin.

Brush hair and pull back to back of head.
Secure hair with a ponytail holder.
Take a 1-inch section of hair from the bottom of the ponytail and braid it to ends.
Take the braided section of hair and pull it up and around the ponytail, covering the ponytail holder.
When the braid is wrapped all the way around, secure the ends with a bobby pin under the ponytail.

Brush and pull back hair together at back of head.
Using a ponytail holder, pull through the hair halfway.
Wrap the ponytail holder around two times.