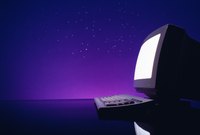 Writing reviews of products, both hard-copy and digital, can generate more than a part-time income. According to the U.S. Census Bureau, 76 percent of individuals live in a household with Internet access. Pew Internet reports that 78 percent of adults use the Internet to research products and 71 percent to buy products. You can turn those numbers into cash in your bank account.
Make a list of your experiences and interests that would fit with writing reviews. For example, you might be a high-tech whiz kid. If that's the case, writing reviews about technology products for consumers or businesses would be a good fit. If you love cooking, then reviewing cookbooks, cooking utensils and appliances, food products and gourmet stores could work for you.
Go to online retail, auction and search engine sites to find the most popular product categories and keyword phrases. Those are the products you should review and the phrases you'll need.
Register a domain using the keyword phrase you've selected and "review" as the URL. If that URL is taken, add your first name as part of the URL. Some products, such as food, could have a more general URL, such as quickandeasymenus.com.
Set up a blog using the control panel of your domain host. Exactly how you do it depends on your host. In most cases, it's turnkey: You literally push a button and the blog sets itself up.
Design an appropriate graphic or have one designed for you to use on the blog. Search for a royalty-free graphic site, which won't require you to pay for use of the photo. Photos attract visitors. If you're reviewing a food product, for example, look for photos of the product itself, but you also can use photos of dishes or ingredients associated with the product.
Select the products you want to review. Find sites that sell the products and have affiliate programs and sign up for a program. Look for popular products with customer reviews already in place. Some sites, such as Commission Junction and Neverblue, require that you have already established a website, which they review before approval. Other sites, such as Amazon.com and Clickbank.com, don't require that the website or blog be up and running.
Write a review of the product with a link to the retail site, using your affiliate code. Post it on your blog. Write as if you were writing to a good friend, describing the product and why it's the best choice.
Drive traffic -- visitors -- to your blog by posting backlinks, one-way links to your blog from another blog or website; participating in forums relevant to the products you review; and submitting articles to article directories that link back to your blog.
Make money when a visitor clicks on the product affiliate link on your blog and purchases the product. You earn a commission, or percentage of the price of the product.