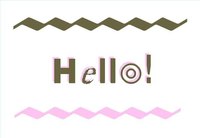 Design a shirt at home and personalize it however you want. Make your own shirts for fun, parties, ball games or even for profit. It's easy to do and takes only minutes to complete a shirt. Personalize with your name, favorite saying or add a few shapes and decorative designs. To get started, gather the needed items listed and follow the steps below.
Things You'll Need
Graphic Design Software
Iron On Transfer Paper
Printer
Open a new page and make the size 8 inches by 10 inches in any graphic design software.

Choose a complimentary foreground color and background color for your shirt design.
Type a saying or words in the center of the page using the Text Tool.

Change the color of the duplicated text to a complimentary color.
Send the duplicate text to the back and move to one side and up or down slightly to form a shadow.

Add decorative accents to the shirt design using the Shape Tool.

Flip the entire image horizontally.

Print onto iron-on transfer paper using any standard ink jet printer.
Set your iron to the appropriate temperature for the shirt material.
Cut off the excess transfer paper around the design.
Place the design onto the shirt face down.
Iron the back of the transfer paper for 3 to 5 minutes.
Allow the transfer to cool for 5 to 10 minutes.
Remove the transfer paper from the shirt. Start a corner and gently pull the paper away from the design.