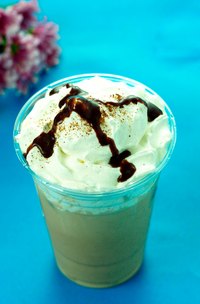 Little indulgences can add up to a lot of money. Take your coffee, for instance: If you're used to stopping at a shop daily to purchase your favored flavor, you can learn to make your favorite drink at home and save a lot of money. If mocha latte or caffe latte is your favorite cup, your task is pretty simple. Mocha latte is simply high-quality coffee, brewed espresso style, with steamed milk and cocoa. If you don't use an espresso maker, you can still make a reasonable facsimile of a mocha latte at home with percolated or drip coffee.
Things You'll Need
Start with a fresh-brewed cup of coffee. Leave room in the cup for hot chocolate mix and milk -- fill it no more than two-thirds full. A traditional espresso caffe latte or mocha latte is one-third espresso and two-thirds milk; but with percolated or drip coffee, you'll use more coffee to achieve the same strength.
Add 1 to 2 tbsp. of hot chocolate mix to the coffee. Stir. It is important to stir the hot chocolate mix into the coffee before adding the milk in order to ensure the hot chocolate mix dissolves completely.
Stir in milk to just below the rim of your cup so it doesn't spill over. If you have half-and-half or creamer you can add that along with or instead of the milk.