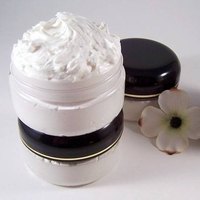 Body butter is a great way to moisturize your skin. The thick and rich body butter melts into your skin due to your body temperature. Body butter works well to treat very dry skin. Making body butter at home is a good idea if you have sensitive skin because you can control what goes in it.
Things You'll Need
1 cup shea butter
1/4 cup soft oil (jojoba, rice bran oil, or fractionated coconut oil)
1 to 2 tbsp. corn starch (optional)
Fragrance as desired (optional)
Small mixing bowl
Small sterile container
Electric beaters or whisk
Melt the shea butter in the microwave using short bursts until it is slightly soft. It should be the consistency of room temperature butter.
Whip the shea butter with an electric mixer on low speed.
Add in the soft oil, slowly, while still mixing.
Add the corn starch. Corn starch helps absorb the grease.
Add some fragrance. Usually, 1 or 2 teaspoons is enough.
Whip the body butter until you have a consistency that you are happy with. Spoon into an airtight container and enjoy.