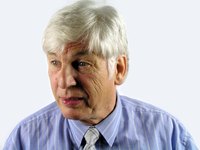 Gray hair has long been a symbol of wisdom and distinction. It's not uncommon for people to go gray as early as their 20s, though most often it occurs when people are in their 50s. Nowadays, people are embracing gray hair and viewing it as a chic, modern fashion statement. If you don't yet have gray hair but want to achieve the look, you can dye your hair gray quite easily.
Things You'll Need
Hair dye kit
Latex gloves
Old towels
Choose a hair dye kit in the shade of gray you like best. Dyes are available in various shades, ranging from light to dark. Some grays have more silvery tones in them, while others possess more whitish tones.
Opt for an all-inclusive hair dye kit. These kits usually include the dye, as well as a conditioning toner and gloves.
Wear latex gloves to protect your hands from the dye. Protect any porous surfaces around you, and wear an old shirt when you dye your hair. Hair dye will stain any absorbent materials.
Mix the gray hair dye per the kit's instructions. Directions will vary slightly, depending on the kit you choose, so make sure to read all the directions carefully before starting.
Wet your hair completely and then towel it dry. Your hair should be damp, but not sopping wet.
Apply the mixed dye to your hair. If possible, have a friend assist with this to ensure that you completely cover your entire head. Try to keep the application even, with the same amount spread throughout all your hair. Once finished, clip your hair on top of your head. Dab any errant dye away with cotton balls.
Let the dye sit on your head for the directed amount of time. Do not leave it on for longer than specified, as it may lead to an odd color or damaged hair.
Rinse the dye out of your hair. Although you can do this over a sink, it's best to get in the shower. Continue rinsing your hair until the water runs clear.
Put the conditioning toner on your hair. This is essential to hydrate your hair after the dye has stripped some of its moisture. Rinse the toner out based on the kit's instructions.