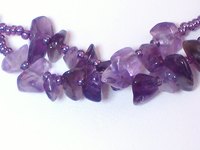 Making handmade jewelry is an excellent way to explore your creativity. You can also use this jewelry to adorn your wardrobe and to make great gifts. There are many types of jewelry you can make by hand, but it is smart to begin with simple forms of jewelry. You can always progressively get more intricate as you build up your jewelry making skills. Start by making a simple beaded necklace by hand.
Things You'll Need
Soft Flex Wire
Crimp Beads
Crimping Pliers
Bead Board Optional
Choose your beads. You can purchase ready-made beads from a bead or craft store. They typically come in precious metals, glass, crystal, gems, plastic and wood. You can also make beads yourself using paper or clay. See the Resources section for articles within this website on how to do just that.
Lay out the design for your necklace on a piece of paper. Make sure this is on a hard surface.
Cut your bead wire. You will want to cut it 5 inches longer than you want the actual necklace to be. If you are making a short necklace, you may want it to be 20 inches.
Attach one end of clasp to your bead wire. You need to slide a crimp bead and a clasp piece onto the wire. Then slide the end of the wire back through the crimp bead. Use the crimping tool to flatten the crimp bead so that it stays in place.
Slide your beads onto the soft-flex wire. Soft flex wire is stiff enough to allow you to bead your necklace without the use of a needle.
Attach final clasp to our necklace. You will have one necklace clasp left to add to your necklace. Once again, slide a crimp wire onto the necklace, and then the clasp piece. Pull the end of the wire back through the crimp bead, and pull the wire so that the necklace is snug. There should not be a space between the beads. Crimp the bead with the pliers, and trim any excess wire.