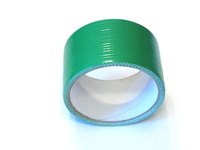 A great tool for altering clothes is a dress-form mannequin. However, a store-bought dress-form mannequin can be expensive, especially if it is custom-made for your measurements. To avoid the expense, you can make your own dress-form mannequin from duct tape.
Things You'll Need
Choose an old T-shirt that fits reasonably well and is at least hip length. Place the T-shirt on the model. If you are the model, you will need the help of a friend because it is not possible to make a mannequin dress form on your own body.
Start below the bust and wrap the body with a long strip of duct tape to press the shirt to the body. Make an X across the chest to capture the shape of the bust. Do not worry about the shirt gathering. This is natural as you shape the tape to the body.
Continue wrapping the tape around the stomach to conform to the shape of the body without being so tight that the model cannot breathe. Pull on the bottom of the shirt as you wrap the tape to make sure it stays long enough to wrap down to the hip area.
Cut small strips of duct tape and use them to form the bust. For a large bust, begin by making a starburst shape and filling in the holes. For a small bust, allow the pieces to fan out as they conform to the bust.
Wrap a piece of duct tape around the base of each arm, then lay pieces across the width of the back. Make two layers of duct tape across the upper back.
Continue placing tape all the way down to the end of the T-shirt and the rest of the body, being sure no T-shirt shows. Aim for two layers of tape over the entire torso.
Cut the shirt and tape up the back very carefully. To make space for the scissors and your hands, have the model hold her shoulders back as far as they will go.
Place a hanger in the dress form and fill it with balled-up newspaper or other recycled paper, then tape it shut down the back. Loosely tape the neck and arms closed as well.
Force the newspaper up into the neck and arm area from the bottom of the form, adding more tape as you go to get the proper shape. Make sure you push paper into the bust area so it does not flatten out, then force as much paper as you can get into the dress-form mannequin and tape the bottom closed.