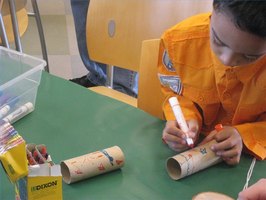 Angels are an integral part of the Christmas season, and you see them everywhere as early as the first of November. While that may seem too early to be thinking about Christmas decorations, it is not too early to start saving toilet paper tubes. Your child can make a beautiful holiday choir using toilet paper, paper towel and even wrapping paper tubes as the holiday approaches. Start saving your cardboard tubes early, and you will have a host of angels by the time Christmas rolls around.
Things You'll Need
Toilet paper tubes

Craft sticks

Round balls that fit on top of the toilet paper tubes

Paint (skin-colored and pink)

Black permanent marker
Yarn (brown, yellow, black or red)

Silk flowers

Yellow pipe cleaners

Scissors

Craft glue
Paint the balls and craft sticks with the skin-colored paint. These will be the heads and arms of the angels. You can also paint pink circles for cheeks on the wooden balls if you like.

Glue one ball to the top of each toilet paper tube. You may need to hold it in place for a few minutes while the glue sets.

Glue a craft stick perpendicular to the back of the toilet paper tube. The ends will stick out on either side like arms.

Stick some short or long pieces of yarn on the balls for hair. If the paint is still sticky, you may not need to use glue. However, if it has already dried, then put a small dot of glue on the top of the angel's head and stick the ends of the hair to this dot.

Glue yellow pipe cleaner circles to the top of your angel's head. Now she has a halo! Once you have reached this point, give the angels a chance to dry.

Cut the tops off all the silk flowers. The best types of flowers are daisies, carnations and other relatively flat flowers that will easily stick to a flat or relatively flat surface.

Glue the silk flowers all over the angels. Do not stop until you cannot see the toilet paper tube at all. The flowers will form the angels' dresses and give an impression of wings.
Tips & Warnings
If you cannot find the right-sized wooden balls, try Styrofoam, or just draw a face on the toilet paper tube itself and wrap the halo around the very top of the tube.
Photo Credit http://blog.oregonlive.com/breakingnews/2008/03/IMG_2383.JPG, http://www.silkhandicrafts.com/download/2006-2/silk_flower_16.jpg, http://images.jupiterimages.com/common/detail/42/93/23109342.jpg
Promoted By Zergnet