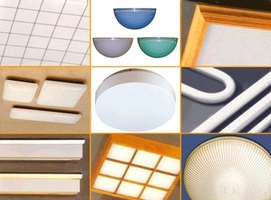 With the rising cost of utilities growing faster than consumers' incomes, they become avid fans of cutting the cost of living. Installing fluorescent light fixtures is one way to help them achieve that goal. The upfront costs are sometimes a little higher than conventional fixtures, but the bulb usage is a positive notable difference. Fluorescent bulbs outlast its competitors, thus saving money in the overall cost of utilities.
Things You'll Need
Fluorescent light fixture

Step ladder

Needle nose pliers
Wire strippers

Wire nuts

Electrical tape
Turn off the breaker that controls the flow of electricity to the fixture.

Place the step ladder under the fixture in a position that makes it easy to work in this area without neck strain. Next, remove the bulb(s) currently in the fixture.

Locate the release points on the cover between the bulb(s) and the inside of the fixture to expose the screws that secure the fixture to the ceiling. Disconnect the wiring by removing the wire nuts.

Remove the fixture from the ceiling and set it aside. Install the new fixture and connect the wiring with wire nuts and electrical tape. Replace the cover and the bulb(s).

Turn the electrical flow back on and check the fixture for proper lighting. Replace any bulbs needed.
Tips & Warnings
Always wear safety glasses.
Lay out all of the parts of the new fixture to be certain everything needed is there.
Use needle nose pliers for the connections that are difficult to disconnect or connect.
Use wire strippers where needed.
Do not work around live wires.
Photo Credit http://images.google.com/imgres?imgurl=http://www.brodwax.com/images/frontgraphicsm.gif&imgrefurl=http://www.brodwax.com/&h=265&w=360&sz=49&hl=en&start=10&sig2=_Ev_JrDVc-q2asBXwf2qkg&um=1&tbnid=qMrPJ2iQ8un8lM:&tbnh=89&tbnw=121&ei=_WhRSOuQGqWkgQKlq_SHAg&prev=/images%3Fq%3Dfluorescent%2Blight%2Bfixtures%26um%3D1%26hl%3Den%26safe%3Doff%26sa%3DN
Promoted By Zergnet